Townsville Rockwheelers
Townsville Rockwheelers is the second largest mountain biking club in Australia, with over 500 members and growing! We are a mixed bunch spanning all ages and are always interested to meet new riders on our social rides and compete against you in our club events.
We are all keen to support new and intermediate riders so do not feel uncomfortable joining if you do not know anyone in the club. It won't take you long to meet new riding buddies.
Our Goals
undertake trail design, construction and advocacy
promote mountain biking in the Townsville region
organise social rides, events and skills clinics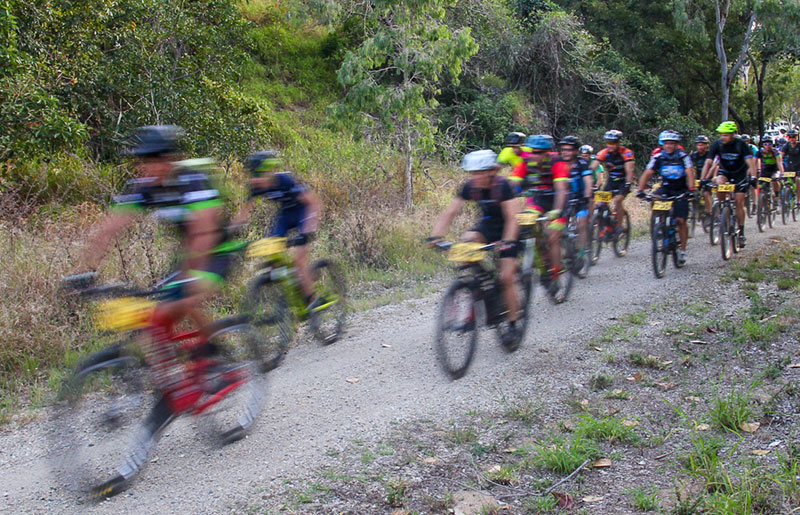 Rockwheelers Environmental Policy
Membership
Membership of Rockwheelers Townsville has many benefits to you and helps to support the local biking community.
Adults: $60
Volunteer Adults: $30
Social Rider Adults: $30
Juniors (13-17): $15
Kids (Under 12): $5
To join us you will also need to purchase Mountain Bike Australia (MTBA) membership. This will provide you with insurance against injury when you ride.
Our Events
Paluma Push
Held in July each year, the Paluma Push is a race from the Paluma Village via the Paluma Dam through rainforest and cattle property to Hidden Valley cabins. Three courses are available, the 42km recreational course, the 53km intermediate course and the competition course which is 70km. Commencing in 2002, the Paluma Push has provided well over $60,000 to the Rural Fire Brigade and SES. The Paluma Push is the club's major fund-raising event for trail building and other important items.
The HotRock
Held at Lake Ross, the inaugural 8 hour cross country endurance event commenced in 2008. The aim of this event is to cover as many laps of the courses in the designated 8 hours. The HotRock is open to teams of 2, 3 or 4 riders as well as solos.
Dam Dark 12 Hour
North Queensland's only 12 hour night race is held at Lake Ross in October/November. It's open to solo riders in addition to teams of 2, 3 or 4 riders.
Downhill (DH), Gravity Enduro (GE) and Cross Country (XC) Series
A number of club races are held throughout the year at the Mount Stuart tracks (DH/GE) as well as trails at Lake Ross and the Douglas Mountain Bike Reserve for Cross Country riders (GE and XC).
Beginners & Social Rides
In addition to competitions the club organises several social rides throughout the year for beginners which allow new riders to get their wheels dirty in a no pressure/nobody left behind environment on the stunning trails around Townsville.
Our social rides range from night laps of Under the Radar to full on Adventure rides through the Paluma Range Rainforest. The skill and fitness for these rides varies with each ride.