Dam Dark 2016
This year's Dam Dark race continues the tradition of all previous Dam Dark races with a fun celebration of Rockwheelers racing and social year. Riders can choose to race for the glory and bragging rights or take a more relaxed approach enjoying the atmosphere.
The course this year is an entertaining mix of fire road and single trail suitable for all level of riders including beginners and inexperienced riders with no significant hills or technically difficult sections. However, this is an 'adventure race' where all riders are expected to be self sufficient with a well maintained bike, good off road lights.
The course will be marked, but it won't be your average highway. There will be few check points and minimal markings to show you the way. To help with navigation there will be a number of social rides over the course and plenty of maps available once the course is released.
Into this mix we are including a free BBQ dinner, some midnight snacks and a little breakfast all of which is included in the entry.
What we will have is a fun atmosphere, a bit of adventure and maybe a tiny bit of a scare - because this year's theme is "Spooks and Monsters". Come dressed as your favourite spook or monster and be prepared for a frighteningly good time.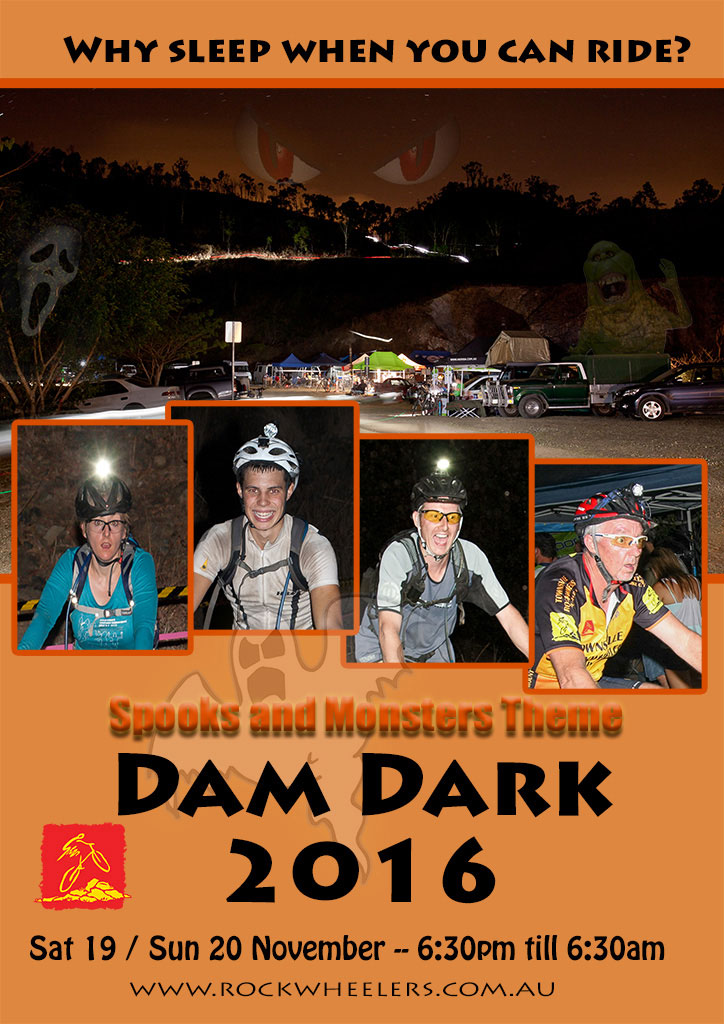 Race Details
Date: Saturday 19 November 2016
Start Time: 6:30pm
End Time: 6:30am, Sunday 20 November
Where: Lake Ross Townsville
Categories
Solo Too Cool to Shift (Single Speed)
Solo Under 19 (17 and 18 Years)
Solo Opens (19 to 29 Years)
Solo Veteran (30 to 39 Years)
Solo Master (40 to 49 Years)
Solo Super Master (50 - 59 Years)
Solo Grand Master (60+ Years)
Team of 2
Team of 3
Team of 4
Corporate Team
Up to 6 riders in the one team - owners, employees and workers of the one company.
Family
Up to 6 riders in the one team - brothers, sisters, husbands, wives and kids.
Orphans (New Category)
Riders who wish to ride in a team but can't find anyone to team up with - we'll do it for you! Riders will be matched by age into teams of 3 or 4.
Rules of the Dam
Riders are not to have contact with the dam water.
No fires.
No pets.
Use the toilets provided.
No littering.
No generators, camping will be available.