New Trail – The New Long Way is open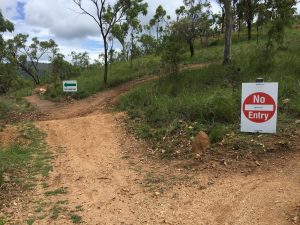 The New Long Way is now open for riding.
The existing Long Way is now down only from Hammerhead Junction to Iron Bark Hub
This is work is part of the Douglas XCM Project using funds from Townsville City Council as part of their support for the XCM event in May.
The old switchbacks up from Ironbark Hub have been upgraded and now connect to a new One Way Up Easy climbing trail (the New Long Way) that links to the 4WD track up the Hammerhead Junction.
The main purpose of this upgrade is to have two separate trails… one way up and one way down, to eliminate the conflicts occurring on The Long Way (the two way trail is working too well !!!).
To complete the upgrade the Long Way (from Hammerhead Junction down to Ironbark hub) will be upgraded to a One Way Down Easy Flow Type.
Evan Rohde (Ground Creations based in Atherton) is contracted to do this work and that should start in a couple of weeks.
The Long Way, from Hammerhead Junction up to the Summit is still TWO WAY.
Confused…???
Just go and ride and check it out ….It will makes sense on the ground.