EndFire Engineering Rockwheelers XC MTB Series Round 1

April 21, 2018
XC Series 2018 is sponsored by EndFire Engineering
Race Starts at 3:30pm
Check In from 2:30pm
Elite Males – 2 Laps
Age Groups – 1.5 Laps
Sport Catergories – 1 Lap
https://www.strava.com/activities/1503114296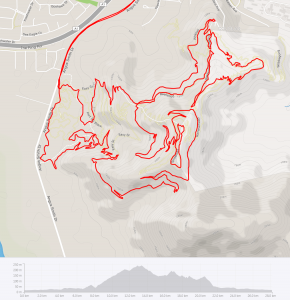 1. START AT THE CARPARK 
2. HEAD PAST THE PUMP TRACK AND TURN RIGHT ONTO FRUIT LOOP.
3. TURN LEFT ONTO FIRE ROAD
4. TURN RIGHT ONTO EXTRA DASH TIL BOULDERDASH
5. CONTINUE UP BOULDERDASH TIL BRIDGE
6. TURN LEFT AT BRIDGE ONTO FLOW TRAIL
7. TURN RIGHT OFF FLOWTRAIL ONTO FIREROAD
8. TURN RIGHT OFF FIRE ROAD ONTO DUAL SLALOM ACCESS FIREROAD CLIMB
9. TURN LEFT ONTO BOULDERDASH 
10. TURN RIGHT ONTO EASY ST
11. TURN RIGHT ONTO BACKSIDE
12. CONTINUE FROM BACKSIDE STRAIGHT ONTO HAMMERHEAD STRAIGHT
13. LEFT AND UP LONGWAY TO THE SUMMIT
14. OVER THE SUMMIT ONTO SPIDERBAIT CLOCKWISE
15. LEFT AND DOWN FROG
16. RIGHT AND ACROSS BEEFWOOD
17. RIGHT AND UP LONGWAY TO THE HAMMERHEAD INTERSECTION
18. HARD LEFT ONTO FIREROAD ADJACENT TO HAMMERHEAD
19. VEER ONTO HAMMERHEAD
20. CONTINUE DOWN HAMMERHEAD 
21. GET ONTO WEDGETAIL
22. CONTINUE DOWN WEDGETAIL TO JCU HUB
23. ONTO UPPER BLUERING
24. TURN HARD LEFT AT END OF UPPER BLUERING AND UP STEEP FIREROAD CLIMBTO BEEFWOOD/LONGWAY JUNCTION
25. TURN RIGHT AND DOWN LONGWAY
26. TURN LEFT AND DOWN WHIPTAIL
27. CONTINUE ON WHIPTAIL THROUGH THE KEELBACK INTERSECTION.
28. AT END OF WHIPTAIL, TURN RIGHT TO GO DOWN RNR
29. STAY ON RNR 2-3 AND TURN LEFT DOWN JUMP ST
30. DOWN 21 JUMP ST
31. LEFT ONTO EASY ST
32. RIGHT OFF EASY ST THROUGH THE LITTLE CREEK CROSSING TO FRUIT LOOP.
33. TURN RIGHT ONTO FRUIT LOOP 
TURN LEFT ONTO EASY ST TO CARPARK FOR FINISH.
Some prizes sponsored by Adventurethon.