Crank'd Cycles Gravity Enduro Series Round 2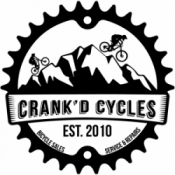 June 23, 2018
Registration for the 2nd Round of the 2018 Gravity Enduro Series is Open.
Sunday, June 23rd – Douglas Mountain Bike Reserve.
Race Plate Pick-Up from 1 pm
Rider Brief at 1:45 pm
Racing after Brief
The start and finish will be from the grassy area to the side of the Riverview Tavern who also have a spot set aside for us inside for post-race festivities should riders wish to stay on. 
The 2018 Gravity Enduro Series is sponsored by Crank'd Cycles.
Course details will be available in-store at Crank'd Cycles in the lead up to the event – 1/58 Pilkington Street – we will announce on Facebook/Website a few days out – stay tuned.
There will be two trails we've never raced on before and some new features included for the first time. 
Rego Link: https://online.mtba.asn.au/ERegister.aspx?E=5578
Facebook Event: https://www.facebook.com/events/1807162429577068/
We're also after volunteers on the day, especially Marshalls and First Aid, please get in touch if you can help. Volunteers will go into the draw to win a $50 voucher from Riverview Tavern, and other prizes from Crank'd!